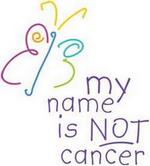 j
j
j
j
j
k
k
Don't get lost in cancer!
My Name Is NOT Cancer encourages you to be your own person, not a victim of cancer, giving you self-belief and courage, possibly at the times you feel most vulnerable.
YOU STAND OUT… your illness doesn't.
Celebrate your identity and let it define the real you.
Survivorship starts NOW!
No matter what challenges lie ahead, you are surviving every day!
Communication is key.
Be empowered to ask the questions that matter to you!
My Name Is NOT Cancer (MNINC) is an organisation with a difference: it's all about YOU! If you've been touched by cancer, the MNINC Publication and website aim to support you to retain your identity and sense of self. Whether you are a patient, family member, friend, carer or health professional, the MNINC Publication encourages you to retain your sense of self, despite cancer. It is applicable to all ages, genders, faiths, cultures, diagnoses and prognoses! This Publication will help you celebrate your identity and provide a gentle reminder that you can still be you!
The MNINC Publication:
Encourages good communication between you, healthcare providers, family, friends, carers and support services
Is suitable for anyone affected by cancer regardless of age, gender, faith, culture, diagnosis or prognosis
Provides reassurance that cancer does not define identity: you can still be you!
Empowers you to reclaim your self-belief
Compliments other publications already in circulation and works in conjunction with the information you have already received
Supports anyone affected by a cancer diagnosis and helps you find inner strength to face the challenges you may be facing
"I have just received the MNINC Publication.
It is simply inspirational and so effective!"
Patient